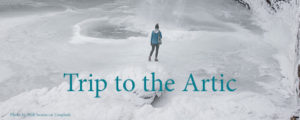 I imagine you heard about the bitter Artic weather in Chicago recently. Minus 41. Please know that was the actual temperature, not the modern-day, Dixie-darlin' weather-girl, wind-chill stuff. Six homeless people and scores of animals left outside died, giving new meaning to the words "bitter cold."
So I guess you can imagine how excited I was to be flying there to perform stories and lead a Navigating Loss retreat. As we began our descent into O'Hare, the depth of the cold was perceptible. No, that's too small a word. You could feel its wickedness rising up. It was palpable. Even the clouds looked cold. The landscape was white on white, snow distinguished from ice only by its opacity. Thick icicles hung from rooftops, trees, and power lines. The outside walls of the warehouses at the edges of the city were frozen in place, as if they had been spray-painted by the cold. I felt like I was flying into the set of "The Lion, the Witch, and the Wardrobe." The airport had just reopened after several days in the deep freeze and we landed on an ice rink of a runway lined by four-feet high walls of piled up snow.
This is yet another reason that I reside in the South. But my dear storytelling friend Patricia had been waiting for me in the cell lot with a warm car so I can't even pretend to have been affected by what they had just endured. We slid across the hotel parking lot with my luggage and then left for dinner at the pastor's house where we were greeted by two very curious dogs and a warm fire in the hearth. It was a symbolic beginning for what was to be a very friendly, enthusiastically embracing, achingly lovely weekend.
The story concert came first. My sister was there. Friends from the Network of Biblical Storytellers' Prairie Wind Guild came. I felt enfolded in warmth and affection.
Saturday dawned bright and cold as 27 people arrived for the Navigating Loss retreat. We were a mess of a mix: Widows and widowers, orphaned 50-somethings, those facing unrelenting illness and its accompanying loss of financial and physical freedom. As we shared our stories of love and loss we bonded deeply. As we laughed at the absurdity of society's rules about grieving and the deeper absurdity and danger of pretending we're not, the weather warmed to a balmy 26. Homemade soup and thick sandwiches were consumed, along with cookies of every description. (I hate the cold but love the heartiness of a Midwest buffet!)
Sunday it rose above freezing, I took credit for bringing the warmth of the South with me as I shared the sermon-story "Sometimes the Angels Ride Harleys," which you can listen to here:
Then I spent the night with my sister and met her new dog. Drank some red wine and ate take-out Chinese. As I flew back through the friendly skies the white clouds of change were appearing on the horizon. Thank God I was back on Southern soil before they were socked again by an ice storm. May the fire of love and understanding warm what's left of this winter for all of us!