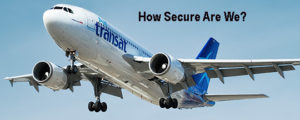 I've been on the road working most of October. Half the time I've driven and the other times I've flown. And flying is where this story begins.
It started at 4:30 a.m. when I had to be AT the Asheville airport at 5:30 a.m. in order to make my 6:30 a.m. flight. When I awoke to the sound of a torrential rainfall (thanks to Hurricane Michael) I saw a text on my phone, "Your flight to Charlotte has been cancelled. Our next available flight leaves at 9:30 a.m. tomorrow. Please call…." Really?! My hospice-sponsored retreat was to start at that same time on Friday – in Pennsylvania! How in the @#&$ was I going to get there?
I looked at my watch. I looked at my already-packed luggage. I threw it all in the car and began driving to Charlotte in a torrential rainfall, in the dark. I called the airline on my cell and asked if flights would be cancelled from Charlotte. "Well, probably, yes, but we're not sure when that will start." A quick glance at the weather radar revealed that I was racing along the edge of a powerful and rapidly advancing front. I put the pedal to the metal. Thank God the troopers were somewhere having eggs and bacon.
I had to park in the "long term lot" so I could afford to leave and the only available lot was located somewhere in outer Mongolia. But, the good news is that there was a shuttle which I was able to walk about a block to catch in the pouring rain. The lovely woman driving it waited for me. "Honey, I'm not supposed to wait on anybody, but it looked to me like you'd had a hard day." God love her.
Inside the airport, as sopping wet as wet gets, standing in my own little puddle of sweat and rainwater, I checked the flight board. My flight to Pittsburgh was on time. I took a deep breath, uttered a prayer of thanks under my breath, got my boarding pass and entered security. And that's when things got weird…
You know how I have dark hair and eyes? And my eyes kind of have that Asian fold due to my wee bit of Cherokee heritage (I think…). Well, apparently that makes me appear middle eastern to folks who have never left central North Carolina. Who knew? I was "removed" from the security line and patted down as a terrorist threat. Then I was handed over to a tall, rail-thin, 30-something, skin-headed man whose moments of power apparently don't come often enough. As I watched him carefully snap on his exam gloves, I prayed he wasn't the cavity search person. Instead, he unzipped my already x-rayed luggage and ruthlessly riflied through it.
He tossed my underwear onto the counter and uncovered what he knew he would find: Contraband.
"Well now, what do we have here?" his testosterone and power-syndrome rapidly rising. He ripped the tops off my watercolor pens and began rubbing them on a TSA memo pad. Now, I know that it pays to remain courteous when dealing with law-enforcement because they have a very stressful job and there really are dangerous people out there but It had already been a very trying day and my flight was leaving in less than 20 minutes and before I could stop myself the words, "What are you? 6? They're watercolor markers!" flew out of my mouth and that was that.
As I tried to apologize and explain that I lead retreats for women and that's why I had the "contraband" in my luggage while dropping hints that my flight left in less than 20 minutes, he opened the package of printed retreat workbooks and examined them closely. Felt the staples on each one. Then he leaned into my face and said, "Just what is it that do you do again?" And I said meekly that I lead retreats for women. And he says, "Widows, right? This says widows" And I replied, "Sometimes, yes.This time, yes."
Well, small world. His mother was a widow. Where was this retreat anyway? She'd been having a really hard time in the three years since his Dad had died and he wanted her to come. I heard the last call for my flight over the PA so, desperately and rapidly, I said, "It's really far away and that's why I need to fly there and can I please go now so I can make my flight? I'm so sorry you lost your Daddy. Please give your Mom this magazine (Widow) and maybe I can come to her town some time and lead a retreat."
Yes, absolutely. Of course. With tears in his eyes he threw all my stuff back into the suitcase, zipped it and followed me until the last possible moment, to tell me about his Mom and the loss of his Daddy and how much it hurt. I squeezed his hand, ran down the corridor, and made my flight.
While I caught my breath I looked around at all the other people squished into that tin can with wings, ignoring the safety instructions (and one another) and I wondered how many of them, like my new friend in security, had lost someone dear to them and never really dealt with it. I wondered how many were still hiding their pain, stuffing it deep down inside because they never received any help to sort through their feelings, or felt truly heard, or treated themselves with enough compassion to recover from that loss.
And I started wondering what would happen if we just reached out and touched each other's pain. What would happen if we looked each other gently in the eyes and began sharing our stories of love and loss? Love is what makes life real and loss is what shows us how much we have loved. And our stories are what can guide us through this life we share together on this little blue and green ball spinning in space called Earth.