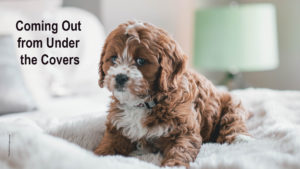 When something really bad happens to you (like widowhood, for instance) it's really tempting to go under the covers and stay there for a while. In fact, I don't think this is a bad strategy, in the scheme of things. Sure beats sitting around listening to other people tell you what you should do, must do, and so on when whatever it is (like widowhood, for instance) hasn't happened to them.
Have you ever noticed how much smarter other people get when it's time for them to solve your problems? Seriously, there they are, muddling through their less-than-stellar lives, bumbling along, confused and stressed out, just like everyone else UNTIL you mention how overwhelming your feelings are (because you're facing widowhood head on, for instance) and you make the mistake of stopping to take a breath and TA DAH! said persons suddenly leap into your life to try and FIX YOU.
Too bad that doesn't ever work, right? I mean, why spend all that useless time on personal development and internal skill-sets when you could just let someone who hasn't done what you are trying so desperately to do fix you? It's laughable, really, and yet their "help" can keep you from coming out from under the covers and putting on your big-girl pants.
Sometimes these well-meaning people can make you feel like a failure before you've even taken one step forward. Just because you say, "I don't know if I should _____ or ____ " doesn't mean you won't figure it out. It doesn't mean you won't find the answer that's right for you! All that question means is that you are aware of the fact that you have choices.
Choices are good things. Choices are brain-judo you do in the safety of your home gym. The contemplation of choices is essential to the act of crawling out from under the covers after the unthinkable happens. And YOU are the only person who knows which one of those choices is the right one for you, right now. (That's the cool thing about considering your options, most things are reversible. More on that in another blog.)
So bravo on you for being brave enough to come out from under the covers! Instead of letting someone try to "fix" you, ask yourself cool, contemplative questions, like, "I wonder what it would look like to ___________." Yeah, that's the ticket. Because Helen Keller was right, "Life is a grand adventure, or it's nothing."