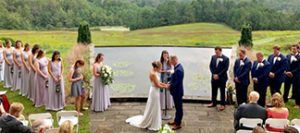 "Love is a many splendored thing" says the song and I recently had a chance to discover that, when things get deep enough, it actually is.
It happened when I attended a wedding between my musical partner Andy's youngest daughter Emelyn and a Virginia gentleman farmer named Breck Light. The setting was the spectacular Claytor Nature Center near the Blue Ridge Parkway's Peaks of Otter Lodge. As you can see from the photo above, the bride is gorgeous and the wedding was framed by a reflecting pool in the midst of formal hedged gardens. How splendid and romantic is that?
What the photo doesn't show is the white, pillared antebellum mansion above them AND the black storm clouds forming beyond the reflecting pool. An outdoor wedding with 80% chance of rain needs a lot of prayer, so of course I went to work and invited some warriors I know to join me. The prayers worked and the clouds were held back by the invisible hand of the Almighty from the minute the service began until the cocktail hour was completed (Episcopalian warriors were involved).
But the reception in the tent was a different story. Once everyone was safely inside, what can only be described as an epic deluge began. As we dined on locally farmed meat and vegetables I felt droplets of water pinging down the back of my burgundy, floor-length sheath. I glanced up when I felt the drops and saw that I was sitting under a bulging seam. Sweet. Lightning flashed and the band's amp zinged out.
Rain poured off the sides of the tent like waterfalls and, with nowhere to go in the plantation field under it, started to climb. As I laughed over amusing small talk and parmesan potatoes, I had this odd feeling that mud was seeping in between my toes. When I went to get a bite of cake, the water was up past my ankles and the brave grass still actually standing was rapidly giving way to mud. It went from pretty to scary in about an hour or less.
But Mother Nature was just getting the party started. At least Daddy Gwynn got his dance in with the bride before the parquet floor slipped under the muddy mess like the Titantic going down. For hours it poured the rain. Buckets of rain. It rained cats and dogs, giraffes and elephants. It was more like being in a pond than a field, that's how fast the grass disappeared. The sound system zapped a few more times, the drummer vamped like mad while they recovered it. Andy wished he'd brought a fishing pole.
Glass after glass of wine was poured out, beer kegs were emptied, and love and laughter was everywhere. After all, what else can you do? These two are the fortunate offspring of strong families and supportive friends. His family does the horse show thing and Andy led outdoor wilderness programs so they were all nonplussed. The band was playing great music, people were filled with food and drink, and the wedding party wanted to get their party on so they kept on dancing until every item of clothing was covered in mud. Not splashed with – covered with. A hashtag of Mud Bride was developed and videos of the mud slide lover's leaps that ended the night went viral on Facebook.
The next day when we went to help clean up, there was actually a bridesmaid's dress and a pair of strapless sandals in the trash. They got that muddy. That's all the information I have and that's all the information I want, you know? And because seeing is believing, check out this photo below of Andy's older daughter, Lisle, and her husband Paul at the end of the mud wedding.
Congratulations Eme and Breck! You are proof positive that love really does conquer all! If you can make it through this with a smile on your face, I think it's gonna be all right.