About the Artist
Donna Marie Todd is a professional storyteller, TEDx speaker, singer, writer, teaching artist and retreat leader. She is a multi-faceted artist who delivers perfectly-crafted performances that combine her talents as a speaker, writer, storyteller and singer. The combination of storytelling and singing has earned her the description of "The Singer of Stories." Currently Donna Marie performs at leading storytelling festivals, corporate events, spiritual retreats, churches, schools and conferences. She trained in vocal performance at the renowned Peabody Conservatory.
Her latest collaboration is with singer-songwriter Andy Gwynn. They are now touring with shows of Andy's original music and old hymns and spirituals, all with tight harmony and delightful banter. When they perform together, they are known as
Twice Blest.
Donna Marie lost her husband of 23 years in 2011 and began working with her fellow widow in retreat through A Widows Tale. Learn more about the retreats and online support she offers.
Read about A Widow's Tale in the Mountain Xpress here. (It's on page 23). After reclaiming her own life as a single mom working with women during retreats is now a main focus of her work.  Read her blog to learn more about her personal journey. She offers one and two-day retreats for women. The National Storytelling Network awarded her a grant in 2014 to develop these retreats for other women! These can be held at a church or community center location or take place at a get-away-from-it-all retreat or conference center. Email her to find out how affordable these weekends of insight, community-building and healing can be!
Donna Marie's talent as a writer lets her deliver ORIGINAL, INSPIRATIONAL stories at her live engagements. Her trove of original stories spans a wide range of topics and styles. She is also well-known in the spiritual community as a biblical storyteller, and she has served as editor of The Biblical Storyteller Magazine for the Network of Biblical Storytellers, International for the last 9 years.
In Donna Marie's words,"I want you to feel at home in my stories. I fill them with vivid images of fascinating people and places, beautiful music and laughter — and wrap them up tight with my deep love of people." This strong connection with her audience has distinguished Donna Marie as an audience favorite who is frequently invited for repeat performances and presentations.
Donna Marie took her performance training at the renowned Peabody Conservatory of music at Johns Hopkins University. She has starred in a PBS television series, summer stock and regional theaters, has had her own improvisational comedy company (they performed regularly at the famous Peabody Hotel). She has performed for radio, television and film productions.
After years of life in big cities she now calls Black Mountain, NC home. She frequently performs at events in the Southeast, but is often called-upon to make appearances across the U.S. and internationally (she spent the summer of 2012 in Australia!). Her latest projects include developing her one-woman show "A Widow's Tale" and offering retreats to other widows and widowers, penning two books: the Butterfly Girl Series about the journey women make to self-esteem and the Metamorphosis Project which focuses on the lessons she learned from death.
Donna Marie' songs and stories are featured on three CD's – Baptism at Second Creek, Stories of Christmas, and Faith of our Fathers.
Early Performances
Donna Marie's professional performing life began at sweet sixteen with Theater West Virginia. She had leading roles for six seasons in both "Hatfields & McCoys" and "Honey in the Rock" as well as being the soprano soloist. She was the soloist for the W.Va. All-State Chorus in her junior and senior years of high school and trained on a vocal scholarship at the Peabody Conservatory. A vocal prodigy, she began private vocal study in high school, studying for four years with Dr. James Fleming of Concord College (WV).
Voice and Acting Training
After high school, she continued her performance training at the Peabody Conservatory of Music in Baltimore, MD where she was a member of the Peabody Opera Theater for three seasons and studied with Metropolitan Opera soprano Marilyn Cotlow.
Donna Marie also studied acting at Baltimore's Center Stage and privately with movie actor Don Johnson ("Where the Red Fern Grows") and Broadway actor Robert Donley (Broadway Revival of "Anna Christie" with Liv Ullman).
Notable Performances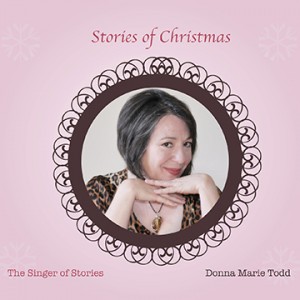 All of Donna Marie's stories include a musical element that enriches the audiences' experience and showcases Donna Marie's vocal prowess. With the exception of her telling of the Holy Word, all her stories and story concerts are original works of art.
Donna Marie has performed extensively with professional companies in a variety of musicals and classic theater productions in the Southeast U.S. Some of her favorite roles include:
Hedda – Ibsen's "Hedda Gabler"
Yum Yum – Gilbert & Sullivan's "The Mikado"
Kate – Oliver Goldsmith's "She Stoops to Conquer"
The Wicked Stepmother – "Cinderella"
Donna Marie played the leading role in a 13-part PBS Educational Series, "Computer Break," which won a National Education Association Award for educational programming. She has also hosted regional radio and television shows and acted in training films for FedEx, Catherine's Stores, AutoZone, NSA and Smith & Nephew Richards Corporation.
Donna Marie founded the Bluff City Comedy Company, an original work improvisational sketch comedy troupe with other professional actors in the Memphis, TN area. They performed together for four years and were the house comedy act for the Peabody Hotel. She also greatly enjoyed designing and performing in weekend murder mysteries at the hotel.
Publishing
Donna Marie's experience in the field of writing and editing includes a post as the publisher of her own regional magazine, LifeDesign, with a three state circulation and readership of 45,000. She has also worked for the Journal of Clinical Psychiatry, Foreign Medical School Graduate, Mid South Chamber of Commerce News and Mid South Hunting & Fishing News. She is currently the editor of The Biblical Storyteller magazine.