Donna Marie's Recordings
Donna Marie's CDs feature energetic musical collaborations with well-known singer songwriters like Chris Rosser (Free Planet Radio) and Mel Fest performer Will Straughan (Red June). Photo: Will and Donna Marie
Baptism at Second Creek, A Mountain Redemption Story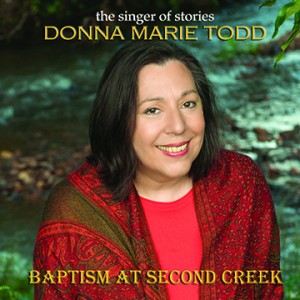 An old mountain man in the rural hills of West Virginia finds salvation in this redemption story. Filled with unforgettable images of mountain life, Holy Rollers, snake handlers, old gospel songs and mystic encounters with God. This true story comes from a seed memory Donna Marie has from the early days of her father's ministry as a United Methodist pastor in the hills of West Virginia. This story reminds us that God sees us through the eyes of deep love and that salvation comes when we seek and are ready to claim God's "forever love" as our own. Includes the songs Amazing Grace, Shall We Gather at the River, and Wayfarin' Stranger. With singer-songwriter Andy Gwynn and guitarist Perrin Todd.
Faith of our Fathers, An Acoustic Celebration of Old Hymns
Donna Marie grew up singing these old hymns. These hymns were born during hard days and tearful nights, revivals and dinners on the grounds. Their words are poignant, emotional and deeply personal. The melodies bury themselves in your heart and keep singing to you for a long time. Will Straughan's guitar, mandolin and dobro instrumentation provides a fresh take on these beloved songs. You wouldn't think a classically trained singer and a bluegrass musician could make beautiful music together, but magic was born when Donna Marie and Will melded their voices during a story telling concert. Additional vocals by Chris Rosser.
Stories of Christmas, Hilarious and Heartwarming Stories of the Season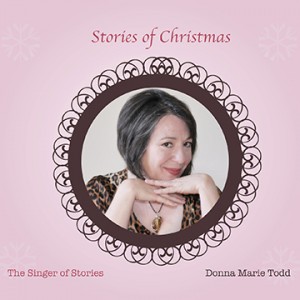 Two original stories are woven with the songs of Christmas. "Princess and the Christmas Dog" is a hilarious story of how Princess, a pound puppy, finds a new home after her initial escape and chase through a small town. Poignant moments mix with side splitting hilarity for a holiday story that is sure to make the season bright. "Iris in the Snow" is a heart-warming story of an orphaned mountain boy who finds the perfect present for his grandmother on a snowy Christmas day. With guitar, dobro, and vocals by Will Straughan.
CDs are available at CD BABY online or by mail for $15 each (includes shipping & handling). Make check payable to Donna Marie Todd and mail to 103 Orchard St., Black Mountain NC 28711